ASICS GLOBAL 'I MOVE ME' BRAND CAMPAIGN KICKS-OFF IN LONDON AND LEVERAGES THE IAAF WORLD ATHLETICS CHAMPIONSHIPS.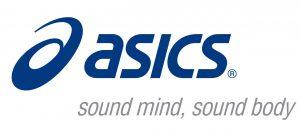 Starting in London and rolling out globally, Asics is unveiling its biggest brand repositioning and marketing burst in 25 years in the form of 'I Move Me' – an initiative designed to make the brand more relevant to a broader audience and engage beyond its traditional running core.
The new tagline, identity, positioning and campaign aims to inspire people of all ages and abilities to move more, and enjoy both the physical and mental benefits of exercise. The strategy is part based on research showing that 92% of those who do physical activity believe it improves their mood.
The launch leverages the sportswear outfit's IAAF partnership around the London 2017 World Athletics Championships and seeks to expand beyond the confines of Asics' traditional athletics and running core into the wider fashion and outdoor spaces.
The central and global 'I Move Me' creative, developed in partnership with creative agency Saatchi and Saatchi LA, broke around the 4th August start of the World Athletics Championships with a local, London led activation phase #IMoveLondon with significant input coming from Edelman.
Designed to 'inspire Londoners to trade the misery of the daily commute for the benefits of getting outside and moving more', the London launch's wave of work spans TV, out of home, experimental digital and social, while being spearheaded by a set of brand films led by a #IMoveLondon hero spot.
This was supported by further films, edits and cuts including 'Run', 'Yoga', 'Urban Athletics' and 'Calasthnetics'. Plus on the ground in London, another activation strand was based around a light installation, and inspired by the city's famous underground network, called #RunTheTube touring the UK capital encouraging people to move and be active.
There is also a set of evolving social and digital activity as Asics aims to more effectively emotionally engage with their customers.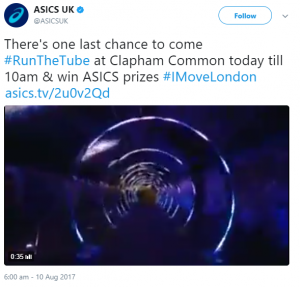 There is also a major retail role in the programme's wider business strategy as Asics expands its store portfolio and focuses more on a 'direct-to-consumer' approach. Again, this began in London on 1st August when a Asics Regents Street flagship store, designed by Pitch, opened in a new way that brings together the company's four key brands: Asics, lifestyle brand Tiger, Onitsuka Tiger and outdoor brand Haglofs.
Further flagship stores in other major cities – such as New York and Tokyo – as well as around 700 additional 'brand locations' and 100 stand-a-lone stores will open/re-open over the next three years. This multi-million pound store investment follows on from a 10% increase of sales in Asics own full-price stores in the first quarter of the year.
The London work is then being followed by the international #IMove roll out via a dual global/dual approach in various markets around the world and different approaches will be applied in different cities. The longer term plan is for 'I Move Me' to at least run up tot he 2020 Tokyo Olympics (of which Asics is a sponsor) and possibly beyond.
Activative Comment
It will be fascinating to see how the flagship physical shop phase of the strategy works at a time when many of Asics' rivals are currently prioritising their ecommerce operations.
The new approach aims to reinterpret founder Kihachiro Onitsuka's philosophy for the next consumer generation.
Onitsuka, a beer bootlegger and serial entrepreneur, began a basketball shoe business post World War Two which evolved in Asics in 1977 with the idea thatsport could relieve distress – the name is an acronym for the Latin motto ' 'Anima Sana In Corpore Sano / A Sound Mind In A Sound Body'.
Paul Miles, Asics head of global marketing, Paul Miles, argues that brand refresh doesn't so much represent a strategic shift, but rather a modern articulation of its long-established principles.
"Brand purpose is core to our DNA, it is our mission, and we haven't been able to tell that story well to a larger audience before," explains Miles.
"A lot of people see us as a very technical running brand, which is great because people trust us for that – but it's not all about that, we're not just about that."
Miles admits that in the past the brand has struggled to communicate its purpose effectively and that much of its consumer reputation has been forged in producing high quality technical running gear, rather than through a more emotional consumer connection.
"We needed to have a way to talk about all our brands and our philosophy at one time. We don't see I Move Me as a campaign, it's an articulation of our mission to get people moving," he outlines.
"We've always been seen as highly technical, with all the gear people need for long-distance running, and people trust us on this and we're proud of that. Core performance sports will never go away for us because that's really part of our DNA. But it's not all we do. We have more product and services we want to deliver and we haven't really talked about them before."
"An emotional connection is something that is really important to us. We have always been very stoic [in our messaging] in terms of our technology and that is very important but this emotional connection and engagement we haven't been able to do so well."
Links
Asics
https://www.youtube.com/user/ASICSvideo
https://www.facebook.com/ASICS.GB.IE
https://www.instagram.com/asicseurope/
http://www.asics.com/gb/en-gb/
IAAF:
https://www.youtube.com/IAAFathletics