IBM'S 2017 WIMBLEDON WORK BLENDS AI, APPS, BOTS & DATA TO ENHANCE THE TENNIS FAN TOURNAMENT EXPERIENCE
A few days before the first serve at the world's greatest tennis tournament, Wimbledon's tech partner IBM has unveiled a campaign showcasing the new technologies spearheading its work at the 2017 Championships.
The official information technology supplier and consultant to the All England Lawn Tennis Club (AELTC) is promoting the latest iteration of its tech tennis partnership via an integrated, multi-platform campaign that is led by an online video.
The 'Under the Skin of Tennis' film outlines just how IBM is working with Wimbledon to use data collection to gain new insights, to reshape the tennis fan experience and to help them get under the skin of the tournament's tennis.
As well as YouTube, the campaign is also amplified across IBM's other global and UK digital and social channels – including Twitter.
Blending a range of skills and bespoke brand technologies – from AI and apps, to bots and cognitive data, the video showcases how IBM's approach to the 2017 Championships focuses on four core areas: changing fan perceptions, competitive margin metrics, visitor utilities and automated video.
With the objective of changing fans' perceptions, IBM is introducing a new, live insight strand that aims to highlight moments and matches of particular interest and quality.
By being the first to offer real-time insights and analysis around breaking match records, the IBM/Wimbledon alliance will be 'first to market' with content and thus help the property owner itself 'rise above the tournament noise, news and views' from the gathered global media outlets.
IBM is also introducing a new 'competitive margin metric' to help Wimbledon's own editorial team tell the stories of the matches in new ways as play unfolds.
While IBM again powers the tournament website and its features and tools (like the familiar IBM ''Slam Tracker'), for those on-site IBM is employing artificial intelligence to assist visitors to Wimbledon at the grounds, while IBM's 'My Wimbledon Story' apps have been enhanced for 2017 with the new Watson-enabled bot 'Ask Fred.'
This feature sees IBM Watson offer a cognitive assistance in answering a variety of questions from fans visiting the event on-site.
The new mobile and tablet app is equipped with a 'natural language' interface and offers users a wealth of information from dining options to interactive maps.
There is also an AI-powered automated video highlights service for Wimbledon fans who 'don't just want to know what happened, they want to see it'.
The IBM and Wimbledon video production team will serve up all the key highlights from the best matches across the tournament for their own digital platforms, plus AI-powered automated video highlights will be generated via IBM Watson and other audio/video technologies to bring to life key championship moments from the six main show courts.
IBM is also exploring all of the past and present tournament data and applying Watson's cognitive capabilities 'to delve into what it takes to be a great champion at Wimbledon'.
This will also link to a 'social listening' strand driving a debate around 'who is the greatest of all time'.
A new 2017 offering, called 'What Makes Great' (a reference to the rights holders own 'In Pursuit Of Greatness' tagline), is powered by IBM's data and cognitive capabilities and provides fans with a new perspective on greatness.
Built on IBM's analysis of 44 years of sports coverage, the tech giant uses its detailed historical data to identify key tennis performance measures against a 'set of topics that are collectively required to make a great champion'.
IBM has been working with Wimbledon as the official supplier of Information Technology and consultant to the All England Club and The Championships, Wimbledon for 28 years.
Its core Tournament work for much of the last decade has been to showcase its skills and bespoke systems through the analysis of millions of data points and thousands of pages of unstructured text to 'learn what it takes to pursue greatness within a sporting arena'.
As well as utilising its own technologies to determine what makes a great Wimbledon Champion, the campaign is also asking fans to join the conversation and have their own say socially using the hashtag #WhatMakesGreat.
This suite of technology supplier services sits at the heart of the partnership promotional programme which also includes additional assets ranging from online video, to real-time suggestions about which might be the best matches to watch on Twitter.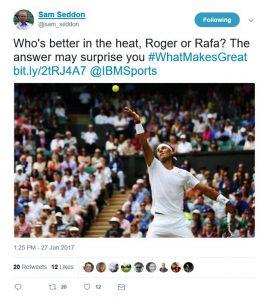 "We are excited for this year's developments, yet again improving and developing our digital strategy for fans to make the most of their experience year-on-year," explains AELTC head of head of communications, content & digital Alexandra Willis.
"In an increasingly competitive sporting landscape, IBM's technology innovations are critical to continuing our journey towards a great digital experience that ensures we connect with our fans across the globe – wherever they may be watching and from whatever device that may be."
"With help from IBM, we are providing new on-site features in the Smart Phone apps such as the 'Ask Fred' assistant, allowing fans to plan their day at The Championships and make the most of their visit," Willis continues.
"Similarly, we are working with IBM to access additional insights in order for our fans to truly understand and share the moments that matter. This year, a combination of design and data driven content and insights will provide fans with the unique Wimbledon experience they expect and more."
Sam Seddon, IBM's Wimbledon client & programme executive, adds: "At the heart of Wimbledon's technology are IBM's cognitive solutions delivering the best insights and analysis possible to the AELTC to encourage great fan engagement.
"Cognitive computing is the next revolution in sports technology and working with us, Wimbledon is exposed to the foremost frontier of what technology can do, as we work together to achieve the best possible outcome for the brand and the event. Cognitive is now pervasive from driving the fan experience, to providing efficiency for digital editors to IT operations."
Among the various IBM products, technologies and systems deployed within its Wimbledon work in 2017 are the IBM Bluemix (cloud platform which help solve problems and drive business value with applications, infrastructure and services), IBM Q Radar Advisor with Watson (which uses cognitive security to uncover new insights and rapidly respond to threats), IBM SPSS Statistics (advanced stats capabilities and analytics to improve decision making), IBM Dash DB, IBM Watson Developer Cloud, and IBM Watson Personality Insights.
Activative Comment
The sheer size of IBM's Wimbledon statistics is something to behold with data sets spanning the 69 million digital visitors with mobile visits to the tournament's platforms, 41 million tennis-specific data points analysed, 395 million views of the official website, 17 million pieces of social media content analysed by IBM Cognitive solutions (not to mention combating the 500% increase in security attacks).This year's 'I Am The Data' video title is an ongoing creative concept for IBM's Wimbledon work and includes 2015'shttps://www.youtube.com/watch?v=ykmJtIDFq-s which was part of IBM's expansive and impressive heritage of Wimbledon work that includes its activations in 2015 (see case study), in 2014 (see case study), plus 2013, 2012 (see case study) and 2011 and 2010 (see case study).
The brand's Wimbledon partnership is the spearhead segment of its global sports showcase strategy that includes other tennis properties such as Roland Garros (see our 2016 case study),the Australian Open (see our 2016 case study), the US Open (see our 2015 case study) as well as golf's The Masters (see our 2016 case study) and its alliance with England Rugby/RFU (see case study).
Powered by Activative > This story originally appeared on Activative Source: an intelligence tool featuring the most creative and effective ideas in sponsorship activation and rights holder marketing from around the world (www.activative.co.uk)
Links
IBM
https://www.ibm.com/uk-en/marketplace/wimbledon/
https://www.youtube.com/user/IBMSmarterPlanetUK
http://www.wimbledon.com/inpursuitofg…
http://www.youtube.com/Wimbledon
https://www.facebook.com/Wimbledon
https://twitter.com/Wimbledon
https://www.instagram.com/wimbledon/
Snapchat: add Wimbledon
https://plus.google.com/+Wimbledon
http://www.wimbledon.com/