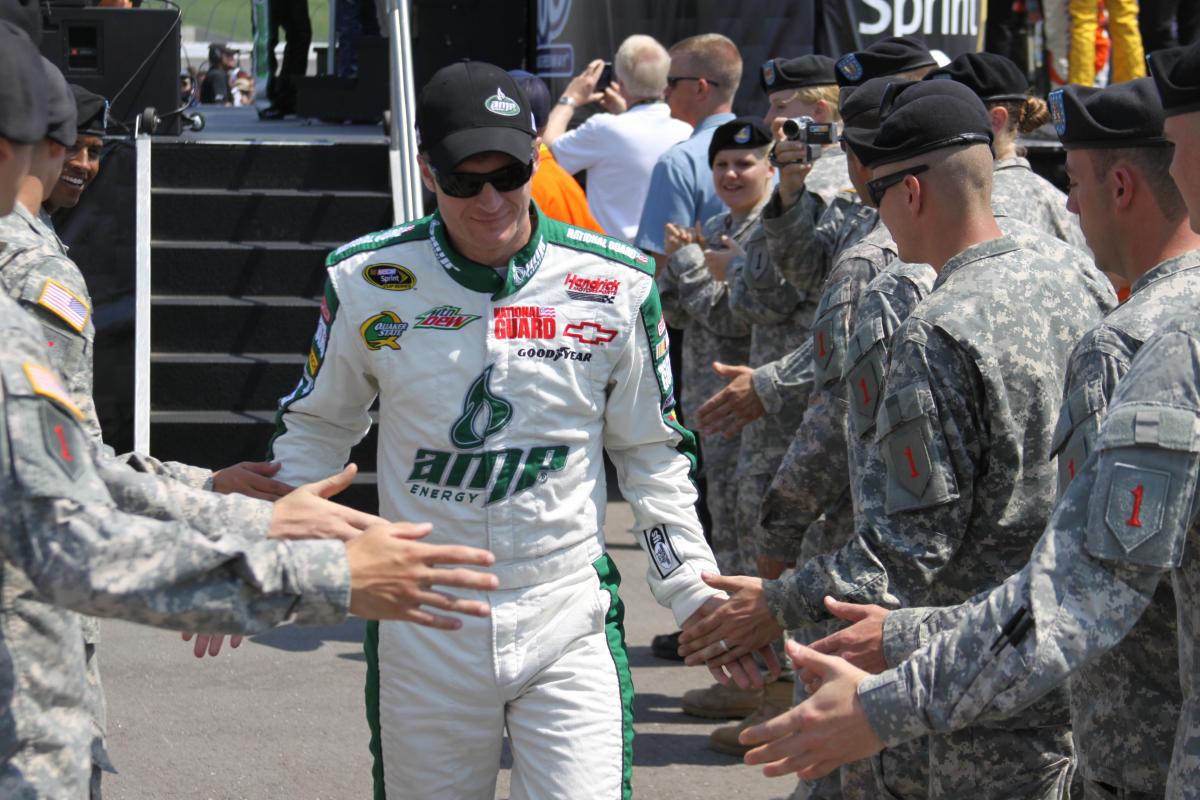 LEGENDARY DRIVER REPLACED BY DEWEY RYDER IN MOUNTAIN DEW'S SPOOF TRIBUTE TO DALE EARNHARDT JR
Mountain Dew is one of several sponsors rolling out appreciative ad accolades around retiring Nascar legend and brand ambassador Dale Earnhardt Jr, but its campaign eschews sombre tribute in favour of a humorous spoof.

An integrated, comic campaign simultaneously bids farewell to Earnhardt Jr and welcomes his green branded fire suit replacement and 'future legendary driver' Dewey Ryder (played by actor Danny McBride).

Earnhardt, who retires at the November close of the Nascar season, has been a brand spokesperson for Mountain Dew for over a decade and this humorous tribute piece introduces the 'rightful heir to this throne'.

While the Pepsi-owned soft drink's farewell campaign began back in mid-October with a more serious and more standard thank you spot called #CheersToDale.
It was followed 10 days later by a teaser spoof press release (penned by the new brand character himself) which included the copy:

"This is surely a bittersweet announcement for some of you. Dale Jr and Mountain Dew have been partners since 2008. Dale Jr is super popular and everyone says he's a swell guy. But every time a stock car door closes, another stock car door opens [editor's correction: stock cars do not have doors] and I'm here to pick up the mantle.

But don't just take my word for it. When I spoke to my buddy, Dale Jr, he said, and I quote, 'My partnership with DEW goes back almost a decade and it's been an amazing ride. I knew the guy who'd come after me would be someone special, and Dewey's definitely… well, he's someone.

I'll be picking up right where Junior left off.
Driving fast cars. Endorsementing. Basically, the same stuff that he does.
While I have never actually driven a stock car, I know enough to be dangerous.

Now, you may be asking yourself, 'Aren't you Danny McBride, the world's funniest actor? What are you doing racing cars?' To which I say, 'Pfft. I'm Dewey Ryder, the rightful heir to this throne.'"

The was followed by a hero spot: a 2-minute 40-second film introducing brashly confident and hopelessly car racing ignorant Dewey Ryder.
The spearhead spot was first posted on the Mountain Dew YouTube channel, before airing on NBCSN on 29 October during the Martinsville Speedway race (Earnhardt's second to last race).
As the campaign evolved (and Earnhardt's retirement drew ever closer) there were additional supporting content pieces rolled out across the brand's digital and social channels (with the hashtag #DeweyRyder): including further YouTube video like a spoof ESPN interview.
"We wrote the Dewey character with Danny in mind. His style of comedy is a natural fit with Mountain Dew's own irreverent tone. And it probably didn't hurt that just after we showed him the idea, Danny ran into Dale at a bar in South Carolina," said BBDO New York creative director Monty Pera.

"Dewey has no racing experience. No training behind the wheel. And, we have no idea how this is going to work out," added Chauncey Hamlett, Senior Director of Marketing, Mountain Dew.

"We'll definitely miss seeing Dale Jr behind the wheel as he starts his retirement, as he is an incredible partner to the brand. Dewey Ryder brings something we've never seen before, from the way he holds a bottle of Dew to his bold, fun and boundary-pushing style.'"

Comment:

While this is just one of a traffic jam of tribute campaigns to the driver – others include rights-holder Nascar, auto partners such as Chevrolet and Ford and Budweiser – Mountain Dew's approach stands out because it avoids the usual sombre, tear-jerking goodbye salutes that are becoming increasingly common across the sports sponsorship space.

Plus, of course, it is strategically sensible for Mountain Dew to stay true to its brand in this way: after all, it has always featured Dale Jr in a fun role in its creative.