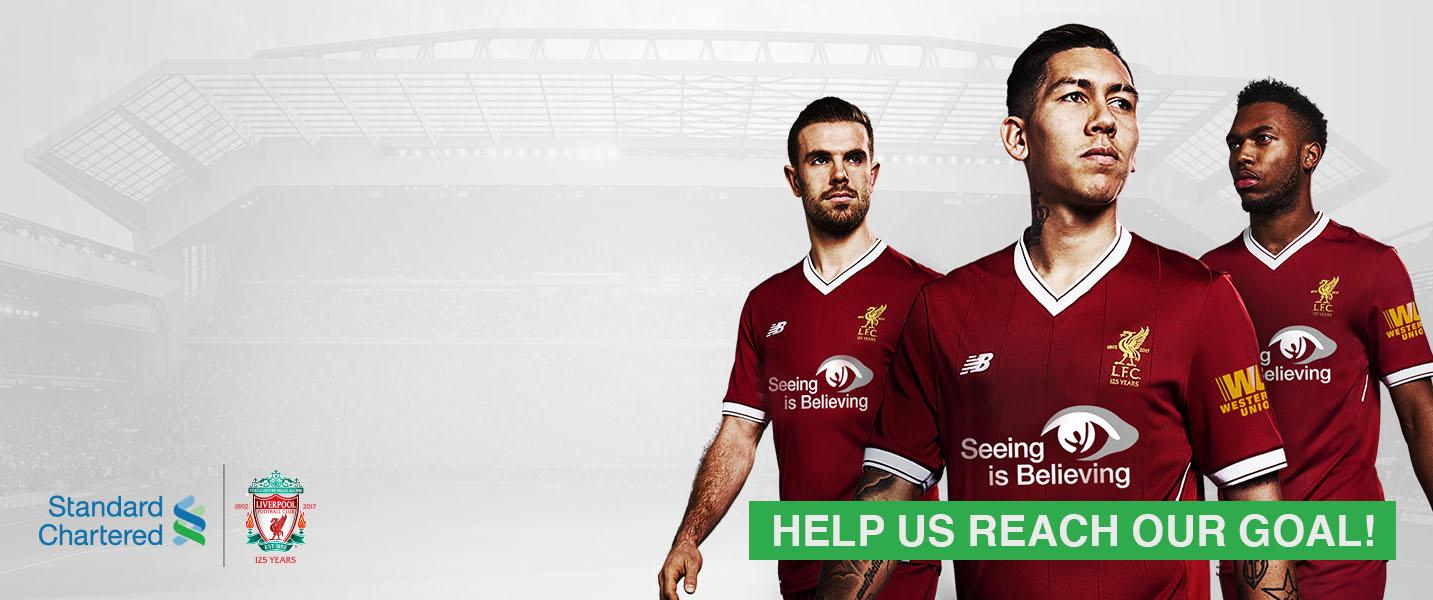 Liverpool & Standard Chartered Support 'Seeing Is Believing' With Campaign Led By 'N65 hear The Kop Roar' Audio Experience
Standard Chartered and Liverpool FC teamed up to help eliminate avoidable blindness through the bank's flagship community programme 'Seeing is Believing' activated at Anfield with an audio Kop Roar experience.
The initiative, the sixth year of this bank-club CSR activation, once again sees the Reds take to the Anfield pitch with kits bearing the 'Seeing is Believing' logo instead of the usual bank branding shirt sponsor.
The temporary sponsor logo shirt swap took place for Liverpool's biggest home game of the season against rivals Manchester United on 14 October, two days after World Sight Day.
"Emotional. Very special, very moving."

The power of the Anfield sound.https://t.co/lAQDgzdo82@StanChart #LFC pic.twitter.com/XYYWQX1anf

— Liverpool FC (@LFC) 12 October 2017
To amplify awareness and build support for the initiative (and increase excitement around the game), 12 October saw Standard Chartered has rolled out a 360 binaural audio match-day experience.
This is an audio piece, called 'Number 64 – Hear the Kop Roar', created together with visually impaired Liverpool FC fan Pat Rodaway.
The aim is that this audio experience, recorded live in Anfield, will enable all the club's fans around the globe regardless of visual ability to experience the Kop singing 'You'll Never Walk Alone'.
The experience is amplified across both club and sponsor's YouTube channels.
Number 64 is one part of Standard Chartered's season-long content series celebrating 'The Power of Numbers' that commemorates Liverpool Football Club's 125th anniversary.
After the match, a set of online charity auctions on Charity Stars in support of Seeing is Believing took place, enabling supporters to bid for limited edition match day shirts signed by the players.
The donations were matched by Standard Chartered and used in the fight against avoidable blindness globally.
"I am inspired by the amazing support that Seeing is Believing continues to receive from Liverpool FC, 89% of avoidable blindness occurs in low and middle-income countries, affecting many of the communities in which Standard Chartered operates," said David Fein, chairman of Seeing is Believing and group general counsel at Standard Chartered.
"This initiative is making a tangible difference to the lives of millions of people around the world, and Liverpool FC's support brings us one step closer to eradicating avoidable blindness."
Billy Hogan, chief commercial officer and managing director at Liverpool Football Club, said: "We are delighted to partner with Standard Chartered for a sixth year to support Seeing is Believing.
"By raising awareness about visual impairment amongst our players and fans, I am sure we can progress the fight against avoidable blindness and improve the lives of millions globally."
Comment:
This season is the sixth consecutive year that Standard Chartered and Liverpool FC have joined together to support Seeing is Believing.
Previous initiatives have included the 2016 activation which was spearheaded by a social spot that is led by Liverpool manager Jurgen Klopp talking, in his own words, about why the bank and the team have linked up to battle against preventable blindness.
Thus far the partnership has raised around £300,000 through fan contributions, auction proceeds and bank matching.
Standard Chartered has focused on eliminating avoidable blindness since 2003 and has reached over 150 million people through medical interventions, eye exams and eye health education.
Since inception, Seeing is Believing has run 166 projects across 36 countries.